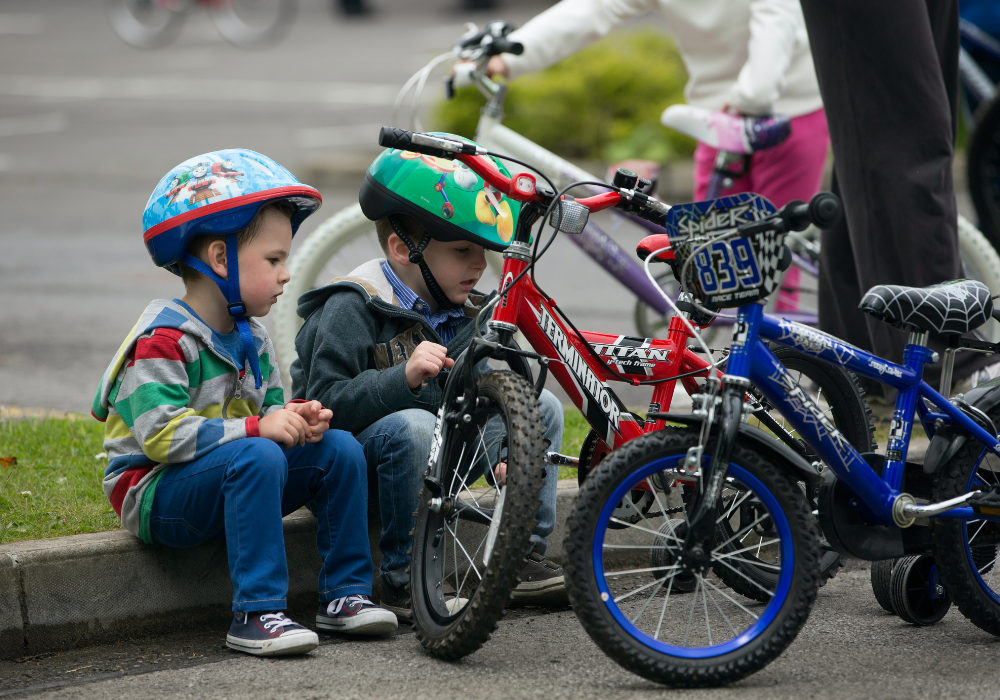 The warm weather has arrived and Canadians are getting out on their bikes! We thought we would pass on some safety tips specifically geared to young riders but many of the rules also apply to adults.
Wear a helmet. It is the law for children under 18, but it is recommended for all riders.
Helmets are single impact which means the helmet must be replaced if it has been involved in an accident or it has fallen hard onto the ground.
Helmets also have expiry dates as the materials break down. Check your expiry date and purchase a new helmet if it is past its expiry.
Helmets must fit properly and be adjusted for your child's head.  Teach your child how to check for a proper fitting and how to adjust their helmet as needed. Here is a link to a short video that will help you and your child ensure a proper fitting: https://www.youtube.com/watch?v=7afDZBatcVE
Adjust the seat height. Make sure your child can put at least one foot on the ground while remaining in the saddle. Our youngest riders will want to be able to touch the ground with both feet for safety.
Children, especially young children, should always ride with both hands on the handelbars.
Make sure your child's bike is fitted with a bell.
For older children who may be riding at dusk or after dark, their bikes should be fitted with front and rear lights and they should wear reflective, not dark, clothing.
Make sure you child understands the rules of the road, including stopping for stop signs and signalling their turns.
Children should always check both ways for traffic before riding out from the driveway.
Children should be cautioned to stay alert, to watch out for parked cars and people opening doors and to watch out for hazards such as potholes, broken glass, dogs and other animals that may run into their path.
For more information, check out these resources:
http://www.mto.gov.on.ca/english/safety/pdfs/young-cyclist-guide.pdf
https://ottawa.ca/en/parking-roads-and-travel/cycling/classes-and-programs
Every spring, the lawyers and staff at Burn Tucker Lachaîne work with the Ontario Trial Lawyers Association to raise funds for the purchase of bicycle helmets for elementary school children. We believe in supporting safety in sport and encouraging active outdoor fun for children. As personal injury lawyers, we see the devastating impact of cycling injuries on families. We hope children and families in Ottawa and Eastern Ontario have a safe summer cycling and enjoying the outdoors.
By Laurie Tucker of Burn Tucker Lachaîne Personal Injury Lawyers
Enjoy this article? Don't forget to share.
Vous avez aimé cet article? N'oublie pas de partager.